THE MOST POWERFUL AND VERSATILE WELDER
FROM LAMPERT
The Micro Arc Welder
- the universal precision welding machine
The professional precision welder for industry, also for thin material thicknesses. Where others stop, we start: The new Micro Arc Welder enables TIG welding of the thinnest material thicknesses and complex structures in an area that is considered largely unsuitable for conventional TIG welders.
With pre-set parameters for a variety of alloys and metals (such as stainless steel and other steels, different nickel-based alloys, mu-metals, titanium, copper, platinum, gold, silver and partly aluminum) and its broad and at the same time finely adjustable power spectrum, the Micro Arc Welder masters even the most challenging welding tasks in a wide range of industries.
Precision welder for industry with long-term proven welding curves for all common weldable metals and alloys.
Enormous versatility of the welder due to power range from
5 – 1000 A also for very thin material thicknesses
High maximum power on demand for penetration depths up to 1 mm (with 1 mm electrode)
Spot weld sequence with 3-step selectable speed up to 3.3 Hz
High resistance without degradation even at high continuous power -.
the tool also for tough industrial applications
Handpiece, electrode and contacting
Stable and agile electrode stroke for fast, easily reproducible welding results
Compatible with all Lampert standard and premium electrodes from 0.6 to 1.0 mm
Weight-optimized handpiece with high-precision ceramic electrode guide (optional) for industrial use
Minimized power loss at high welding currents: Reinforced connection sockets for contacting tools with safety plug
Clear, simple device control with single-screen configuration
Fine adjustment of power output from 1 – 100 % for pulse strength
and 0.1 to 34 ms for pulse duration


High-resolution display with 768 x 576 pixels for maximum viewing angle under all environmental conditions
Newly designed, patented welding process control preventing welding errors
Intuitive one-hand operation even with gloves on

Current (TIG) min./max.
5 – 1000 A
Pulse duration (TIG) min./max.
0.1 – 34 ms
Welding speed
up to 3.3 Hz
max. Charging time at full power
0,5 s
Number of metal programs
12
Range display with recommended
settings
yes
High frequency welding
yes
Automatic gas pre-flow time
yes
Connectivity for mobile eye-protection systems
yes
Gas consumption
approx. 2.0 l/min
Inert gas
Argon > 99.9 %
e.g. argon 4.6
Power consumption during welding
approx. 1000 VA
Power consumption during idle operation
15 W
Weight
10,9 kg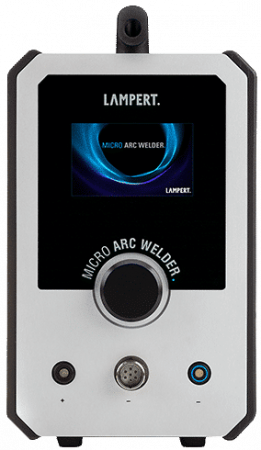 The Micro Arc Welder in a professional check
Stefan Haisch – technical project manager in the aerospace industry and precision welding expert with a passion – has taken a closer look at the new Micro Arc Welder and gives an overview of the most important features of our precision welder for the industry.
Compelling variability in applications
The professional welder "Micro Arc Welder" solves your joining task in industrial metalworking, electronics manufacturing, development lab, repair shop or mobile operations directly at the customer's site when precision, reliability and controllability are required. It has been designed for all weldable materials such as stainless steel and other steels, various nickel-based alloys, mu-metals, titanium, copper, platinum, gold, silver and partially aluminum in material thicknesses down to less than 0.2 mm as wire, sheet or in a metal mix.
This opens up a wide range of possible applications:
Welding of thin material thicknesses
Welding of complex shapes and structures
Liquid- and gas-tight bonding of metals and alloys
Repair welding and weld cladding
Electrical contacting of conductive wires and electronic components
Fixing/tacking of workpieces for automated soldering or welding
Bonding of sensitive surfaces without unfavorable structural or visual impact
…and many more.
Take a look at our application library with numerous practical examples.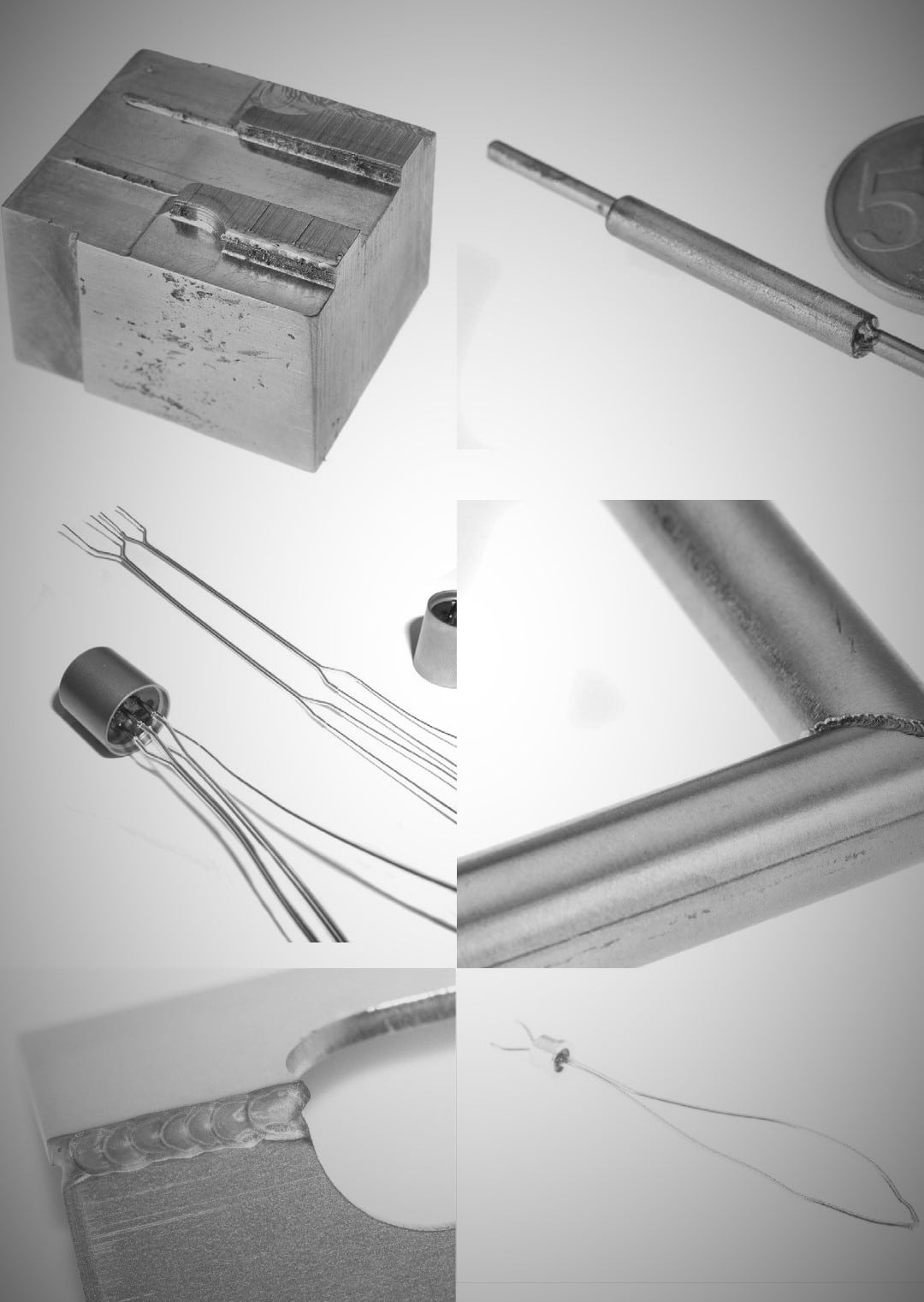 Around the Micro Arc Welder
The operating principle of the Micro Arc Welder is as simple as it is ingenious
If the electrode tip of the welding handpiece touches the workpiece, the welding device automatically starts the welding process . At the point of contact, a melting of 0.2 to 4.0 mm diameter occurs under inert gas atmosphere (depending on material and setting).
In addition to precious metal alloys such as gold, silver and platinum, many non-ferrous metals such as copper and tin alloys, many steels, titanium and aluminum alloys are also suitable for welding.
All alloys suitable for laser or TIG welding can also be welded with the Micro Arc Welder.
Minimum heat input - joining with minimum material distortion
The Micro Arc Welder uses a micro-pulse process in which the arc is ignited electronically. Under an argon inert gas atmosphere, the electrical energy acts on the weld spot in a concentrated manner for a few milliseconds via a non-melting tungsten electrode.
This reduces heat input to a minimum and produces a permanent joint without the disadvantages of classic joining methods, virtually free of distortion.
The ideal precision welder for industry!
The Lampert welding equipment series: MAW vs. PUK
Lampert's success story began in 2001 with the PUK for goldsmiths and silversmiths. The Micro Arc Welder is based on the same Lampert welding principle as the PUK and has been specially developed to meet the special requirements of industrial demands. It offers the following advantages over the PUK, among others:
60% higher performance for welding highly thermally conductive alloys and thicker material thicknesses
Reinforced connection sockets for contacting tools with safety plug
Al welding curves for welding of aluminum alloys (mainly flux-cored welding and surface repairs)
Robust housing with impact-resistant corners and carrying handle for mobile usage
Wireless connectivity for the operation of mobile eye protection systems
Device design for increased service life and power load
Advantages in daily operation in TIG welding
of industrial applications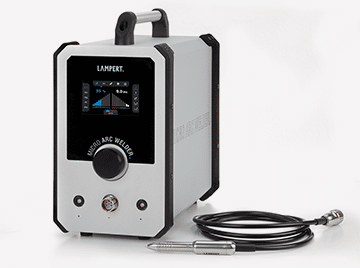 No special expertise required
Simple and intuitive operation of the welder – no specialized training required

Reproducible and high-quality welding results

at any time on all weldable materials
Incorrect operation of both the connections and the operating system of the device almost impossible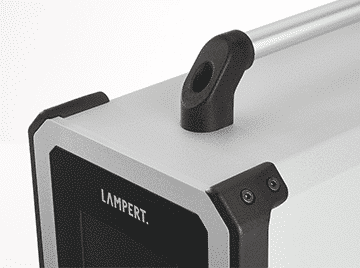 Robustness and durability
High-quality, robust metal housing with practical carrying handle, resistant edge protection and robust, durable surfaces
High-quality connection sockets and controls
Long service life even under increased load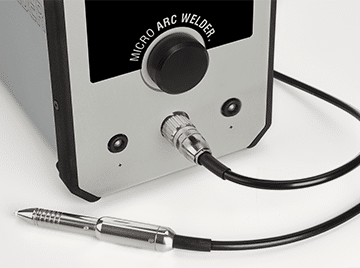 No setup times – immediately ready for use anywhere
Maintenance free technology
Compact size – easy to transport
Low costs for consumables
Low argon consumption
The Micro Arc Welder makes welding easy
Ready for operation in maximum 3 steps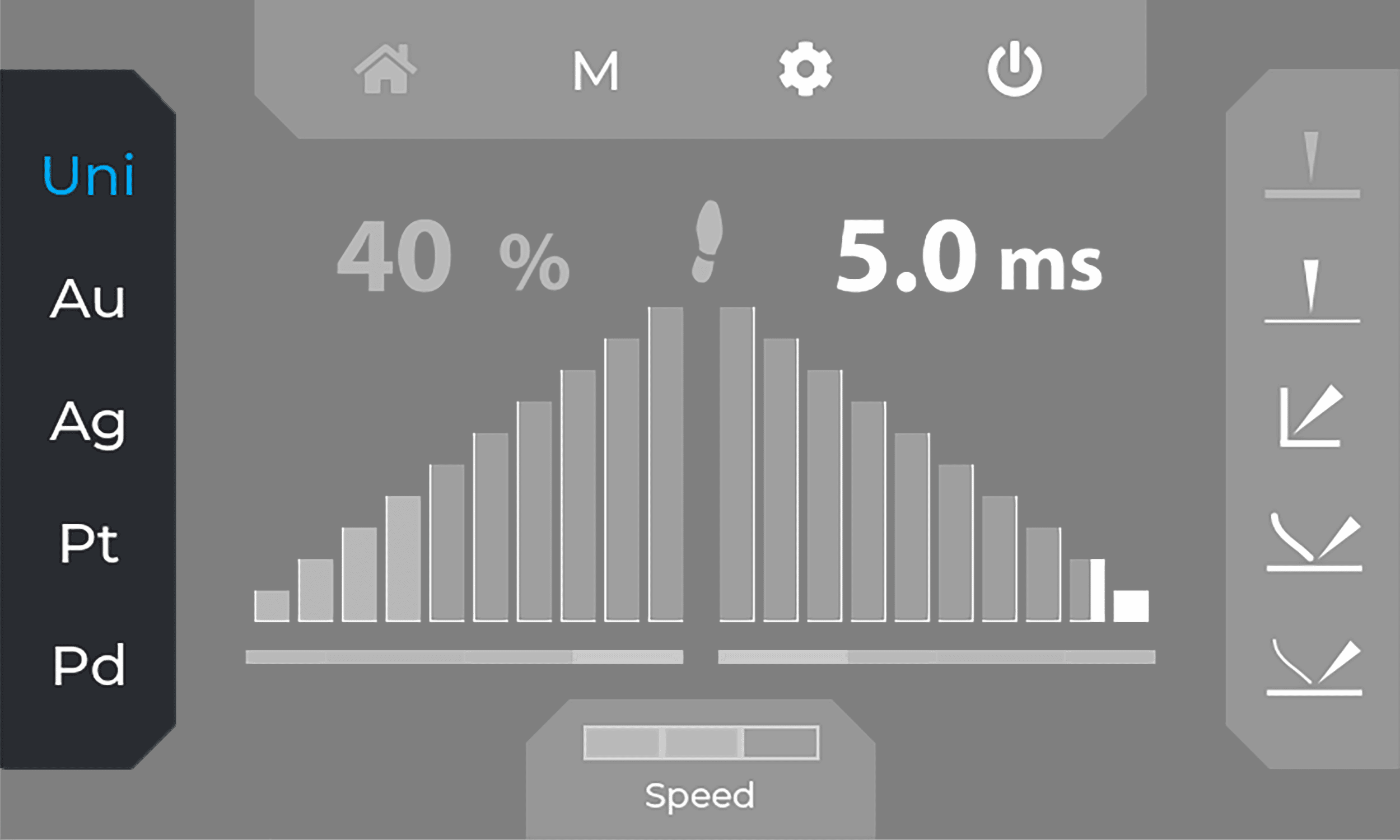 Selecting the most suitable metal group for welding in the material menu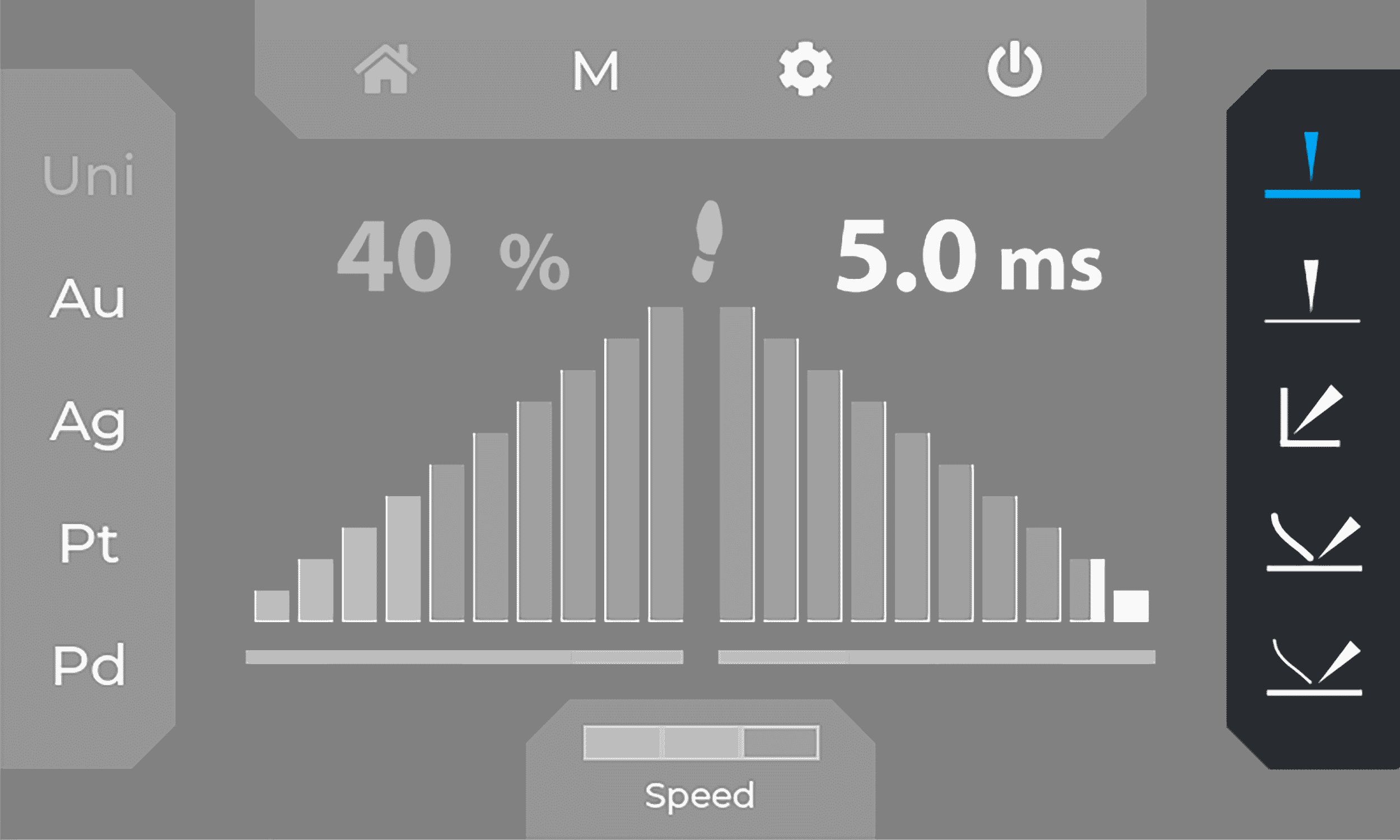 2. Select welding situation
Standard situation is already preselected
Select special welding situation if required (e.g. welding with filler wire)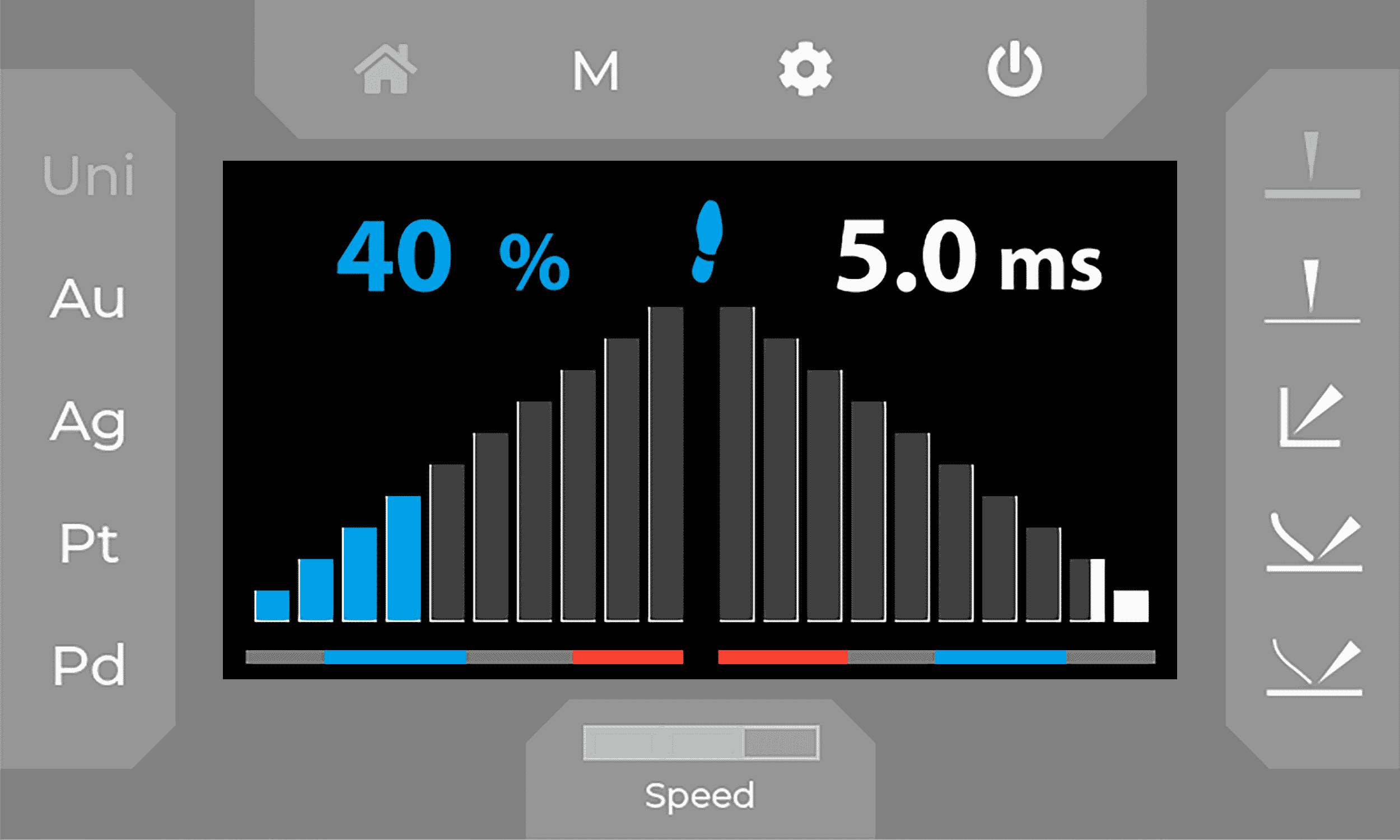 3. Parameter fine adjustment
Recommended setting range is already preselected
Fine-tune diameter and penetration depth of the spot weld via pulse strength and duration if desired
Accessories and optional equipment
Practical additional system components for the Micro Arc Welder professional welder and accessories such as electrode grinding motor, flow controller or welding wires and many more are available according to your individual needs.
Please also visit our accessories page.
The requirements of a precision welding equipment for the industry are as individual as our customers. That is why we allow you to define the scope of delivery for each Micro Arc Welder yourself and select the eye protection system, the handpiece, the contacting tool as well as the electrodes and collet chuck according to your needs.
Here you can download additional information about the Micro Arc Welder:
Quality and safety in the first place with us
Quality for your demand: We place importance on the highest production and safety standards and guarantee the reliability of our products.

Practical and fast: plug-in nozzle and clamping nut for fast, tool-free changing of electrodes

Quality "Made in Germany
The Micro Arc Welder is developed and produced in Germany.

Quality from conviction
For the Micro Arc Welder welders we provide 1 year warranty!

Standard-compliant
Each Lampert welding system is manufactured according to the valid EN standards and is CE compliant.

Compliant with standards
In addition to CE compliance, our welding equipment also meets UKCA requirements for the UK.

Latest technology
Our long-standing cooperation with the University of Applied Sciences WÜ-SW vouches for innovation.

The official German ceritification authority for research and developent "Bescheinigungsstelle Forschungszulage" (BSFZ) awards its seal exclusively to companies that are eligible to claim funding through the research allowance.