Micro Arc Welder eye protection for industrial applications
We know that eye protection requirements vary depending on the difficulty and environmental conditions of the welding work. That is why we have a wide range of different eye protection systems and welding microscopes on offer for the Micro Arc Welder.
HIGHEST FLEXIBILITY FOR MOBILE WORKING
Precisionmaxx welding helmet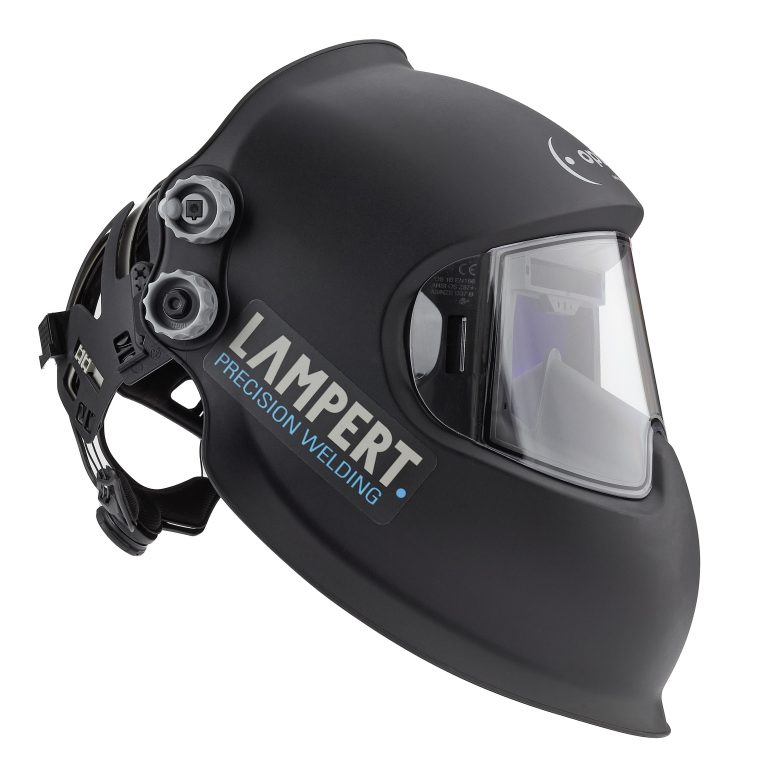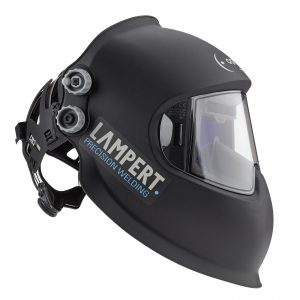 Mobile welding has never been so easy. The Precisionmaxx welding helmet is the perfect eye protection for the Micro Arc Welder in any work environment. The perfect complement to our stationary eye protection systems for flexible working.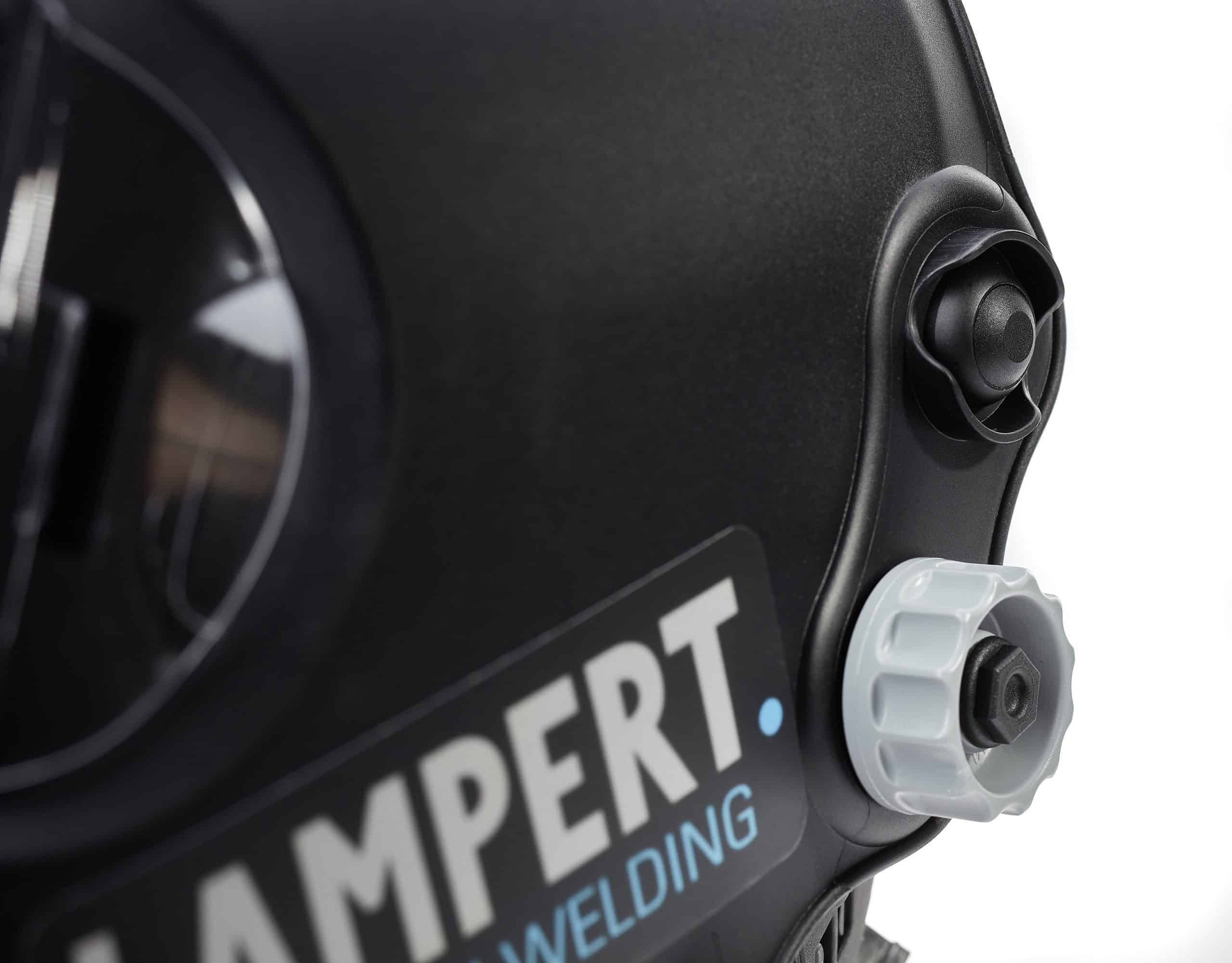 Bluetooth connection with the welder for optimal darkening of the field of view. Perfect ergonomics even during longer welding work due to the isoFit® system. Additionally, it can also be used with any conventional welding machine.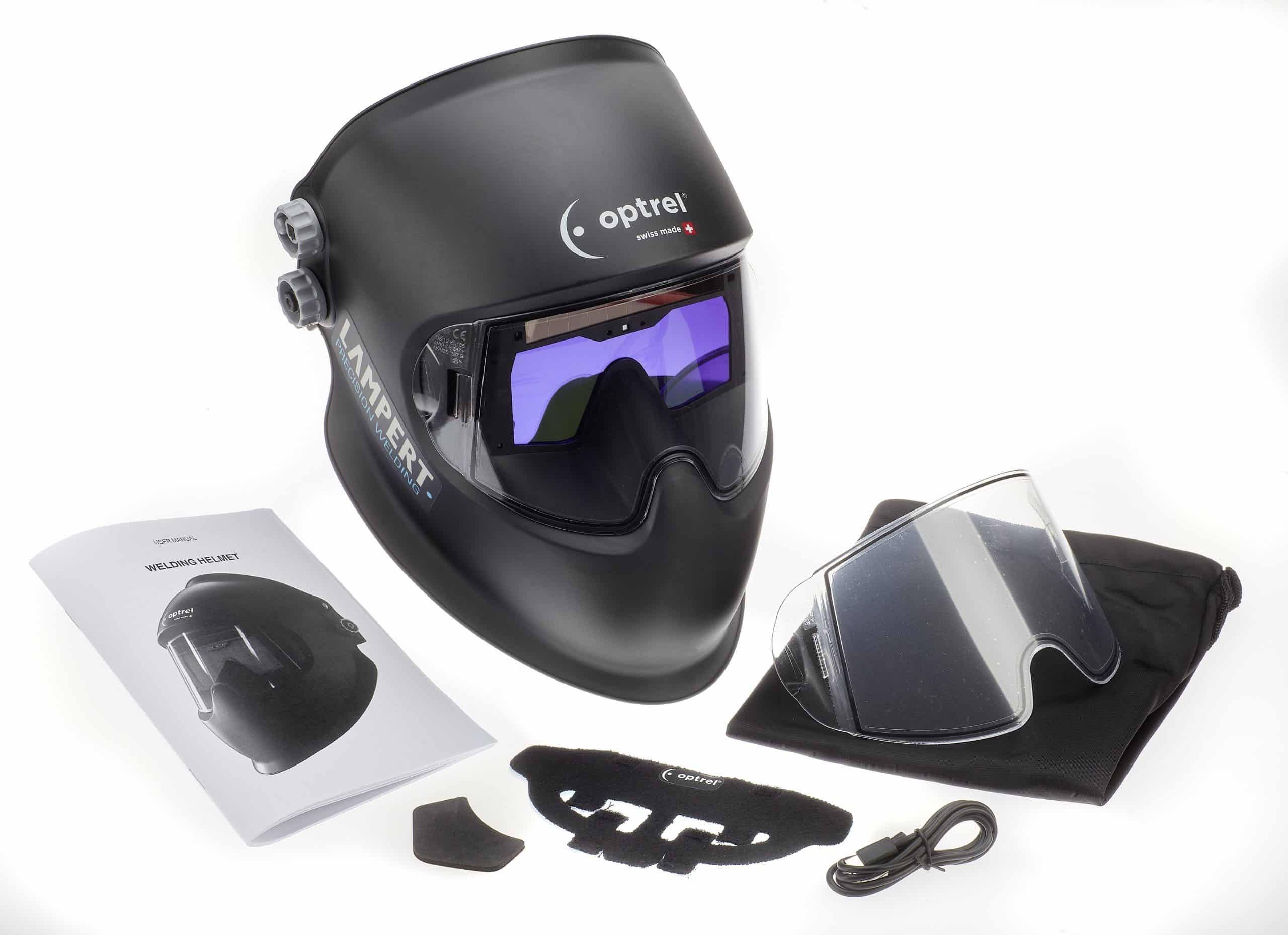 Scope of delivery:
Safety helmet Precisionmaxx
USB charging cable
Replacement visor outside
isoFit® replacement cushion inside
Storage bag
Instruction manual
Wireless pairing via Bluetooth®
Optimum darkening before every single elctric arc due to signal-controlled shutter
Magnification up to 1.68x by replacing the inner screen (optional)
Ready for use also with conventional TIG welders by switching to sensor automatic mode
Innovative sleek shape with robust and high-quality materials
Large field of vision from shutter with nose cutout close to your eyes
No shutter fog-up - clear separation of visual section and breathing section
Perfect accuracy of fit with Optrel IsoFit® Headgear
Designed for Micro Arc Welder welding systems
Plug & Play ready by connecting the USB dongle
Compatible with Optrel e3000X and SwissAir blower respiratory protection systems
THE OPTIMAL CHOICE FOR ALMOST ANY WELDING SITUATION
SMG articulated arm welding microscope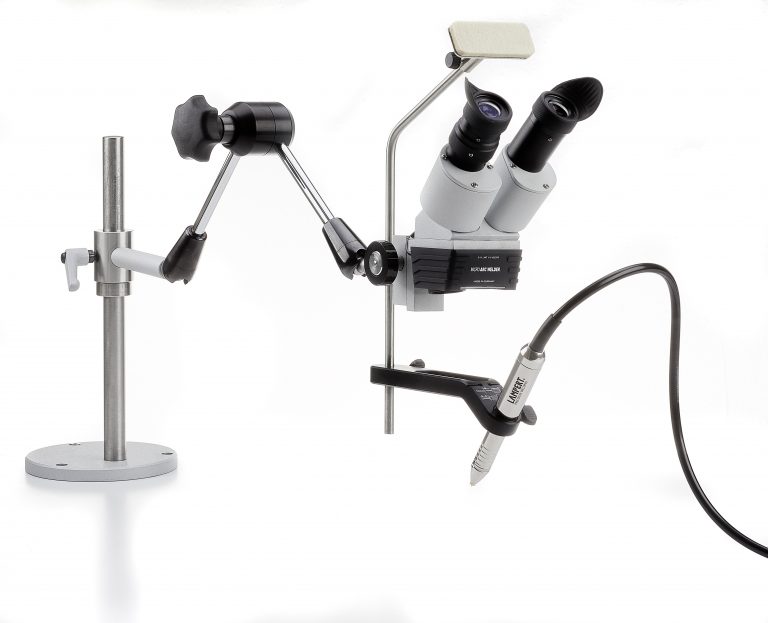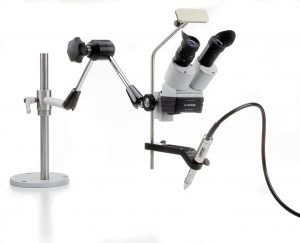 Articulated arm, can be rotated and swiveled in all directions, making it particularly ergonomic to work with. For easy mounting on a workbench e.g. with 3 screws (not included).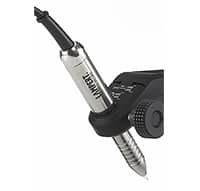 Provides even more flexibility at the workplace, e.g. when welding very large objects. Better use of space where space is limited.
Easy operation by the fixing knob. This microscope can also be used as a working or viewing microscope at any time.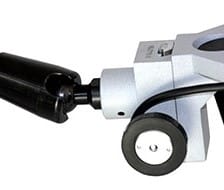 Technical data welding microscopes
| | |
| --- | --- |
| Magnification | 10 x |
| Field of view diameter | 20 mm |
| Working distance | 145 mm |
| Diopter adjustment | + |
| Lighting | LED 3 W / 800 mA |
| Reach | 550 mm |
| Height and tilt adjustment | + |
| Weight | 5,1 kg |
Technical data eye protection system
| | |
| --- | --- |
| Actively controlled LCD eye protection system | + |
| Brightness level of the LCD | DIN 3 |
| Dark level of the LCD | DIN 11 |
| Switching time | < 50 ms |
| UV protection | > UV11 |
| IR protection | > IR11 |
OUR RECOMMENDATION FOR FASTENING TO STEEL SURFACES
SMM - Articulated arm welding microscope with magnetic base
The SMM brings all the features of the SMG and combines them with a convenient magnetic base. This allows the SMM with its articulated arm to be perfectly attached to magnetic surfaces and positioned and aligned almost anywhere above the workpiece.
Only optimal visibility with real safety for the operator's health leads to good welding results.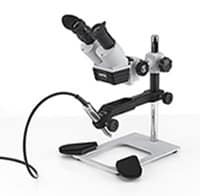 Unlike simple mechanical protection systems, the SM6 welding microscope is equipped with an LCD welding eye protection system specially developed and certified for Lampert. This eye protection system has decisive advantages for your safety.
For one thing, the field of vision is not completely darkened during welding, which results in less eye fatigue.
On the other hand, the Lampert system permanently protects against the dangerous radiation (UV and IR) generated during welding.
Even in case of a possible malfunction, there is safety for the welder's eyes!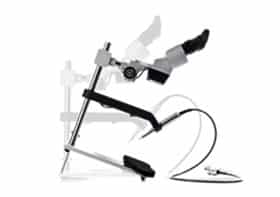 Especially for regular or prolonged welding, good ergonomics of the welding microscope is very important.
The SM6 welding microscope can be optimally adjusted to the operator and additionally ensures relaxed and low-fatigue work thanks to comfortable hand rests.
Each welding microscope is prepared for the attachment of an optionally available headrest, which makes even longer work comfortable.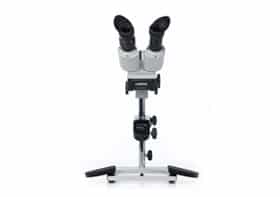 The optics of the SM6 welding microscopes excel where it really makes sense.
After 12 years of development, we are still convinced that there are two essential requirements for the optics of a welding microscope. A fixed 10x magnification and a large 20mm diameter field of view.
In other words, as few mechanical components or functions as possible that could be damaged by the vibrations generated during welding.
Here, too, quality and durability are our top priorities.
LED illumination integrated into the housing of the eye protection system
The SM6 becomes a working microscope in no time at all, simply by swinging the handpiece holding arm away from the field of view.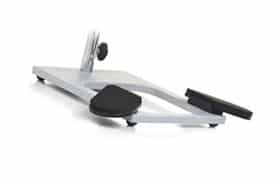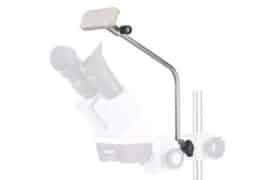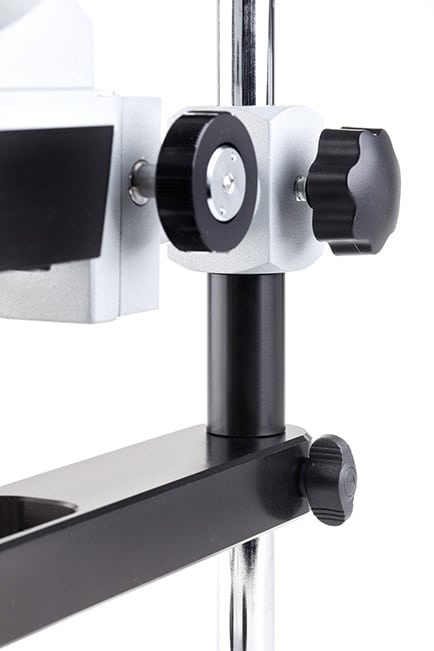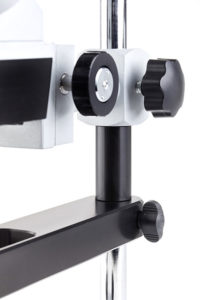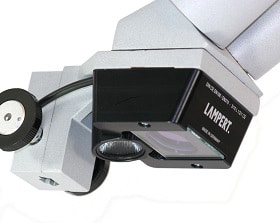 Technical data welding microscope
| | |
| --- | --- |
| Magnification | 10 x |
| Field of view diameter | 20 mm |
| Working distance | 145 mm |
| Diopter adjustment | + |
| Lighting | LED 3 W / 800 mA |
| Ergonomic hand rests | + |
| Height and tilt adjustment | + |
| Weight | 3,6 kg |
Technical data eye shield
| | |
| --- | --- |
| Actively controlled LCD eye protection system | + |
| Brightness level of the LCD | DIN 3 |
| Darkness level of the LCD | DIN 11 |
| Switching time | < 50 ms |
| UV protection | > UV11 |
| IR protection | > IR11 |
Micro Arc Welder Eye Protection - Downloads
Here you can download additional information about our eye protection systems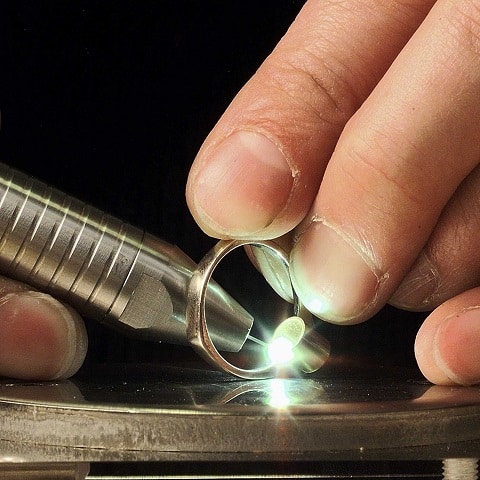 Are you unsure about the possibilities of Lampert's fine welding machines? In our showroom you will find numerous customer opinions from everyday work, an extensive video library with application examples and a photo gallery with practical examples. Let us inspire you!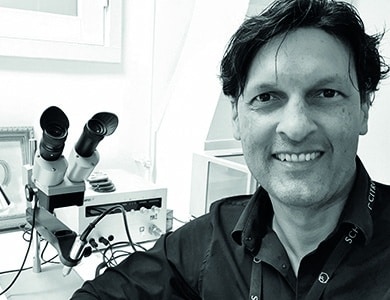 Mohan Chandie Shaw
Master goldsmith / designer / gemstone setter
With my PUK I can design, make and repair jewelry faster, better and more complex.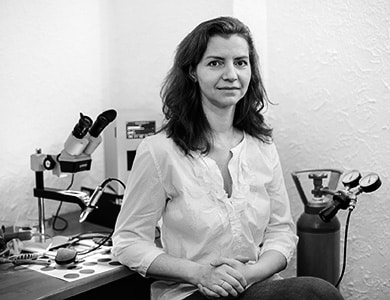 Dr. Daniela Zaharia
Orthodontist
The PUK D5 opens up a whole new world of design for me … and is the ideal partner in today's 3D printing era.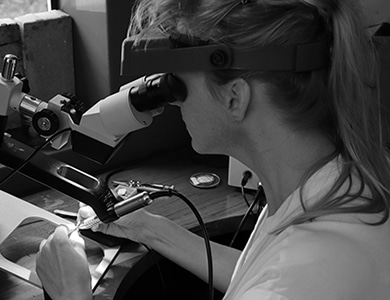 Studio Loubser
Tailor made jewelry
Our PUK has become an essential part of our workshop … time-consuming manufacturing steps or repair processes are often omitted.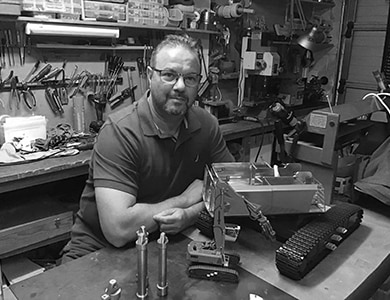 Ramon Zollner
R/C model builder and designer
With the PUK, I have taken custom remote control model building to the next level!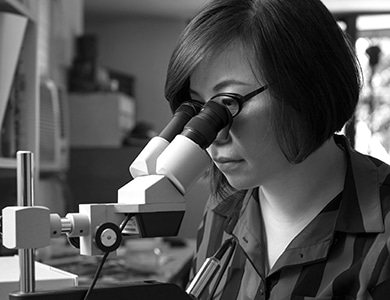 Min-Ling Hsieh
Goldsmith
I have to say, without the PUK, I couldn't imagine doing my job!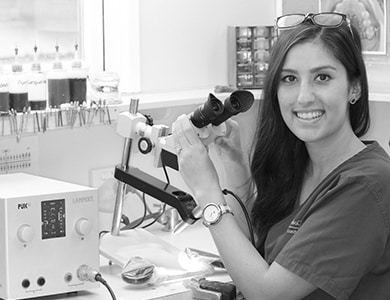 Gabby Williamson
Dental technician, Toowoomba (QLD)
Soldering in orthodontics is now a thing of the past for me, and many jobs were not possible in the way they were when I could only solder in the lab.
Luca Cristino
Goldsmith
I believe that a PUK belongs in every workshop to make jewelry making as well as repairs faster.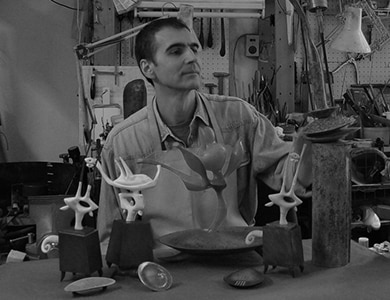 Yura Golub
Goldsmith, sculptor and graphic artist
Thanks to PUK, I can realize my creative ideas more easily and there are no limits to the realization of my imagination!"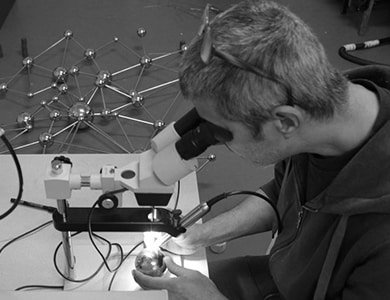 David Fried
Interdisciplinary artist
My PUK has not only solved many problems in the realization of art projects that I already had in mind, but has opened up unimagined possibilities for many more ideas!