PUK 6 eye protection - welding microscopes
Schweißen mit optischer Vergrößerung und automatischer Abdunkelung – wir haben für jede PUK 6 Schweißsituation den passenden Augenschutz.
PUK 6 eye protection – Only optimum vision with real safety for the operator's health leads to good welding results.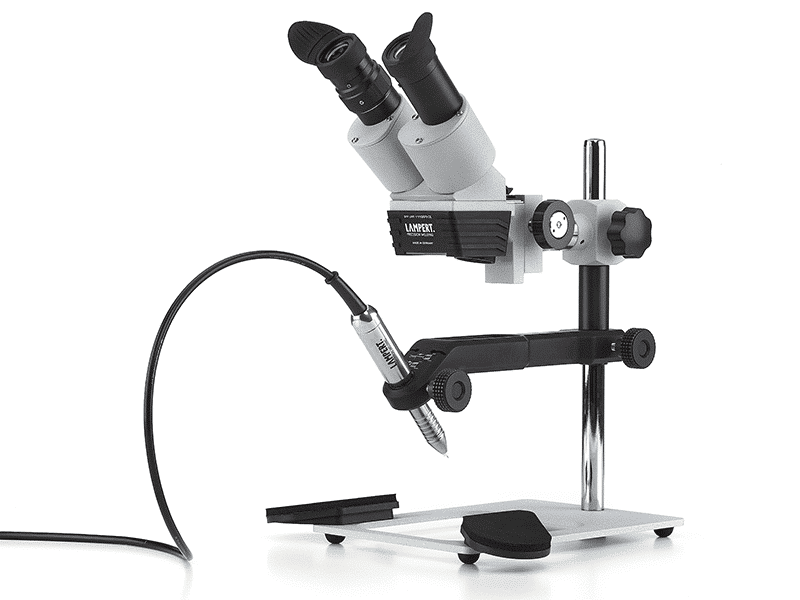 In contrast to simple, mechanical protection systems, the PUK welding microscope is equipped with an LCD welding eye protection system specially developed and certified for Lampert. This PUK 6 eye protection system has decisive advantages for your safety.
On the one hand, the field of vision is not completely darkened during welding, which results in less eye fatigue.
On the other hand, the Lampert system permanently protects against the dangerous radiation (UV and IR) generated during welding.
Even in case of a possible malfunction, there is safety for the welder's eyes!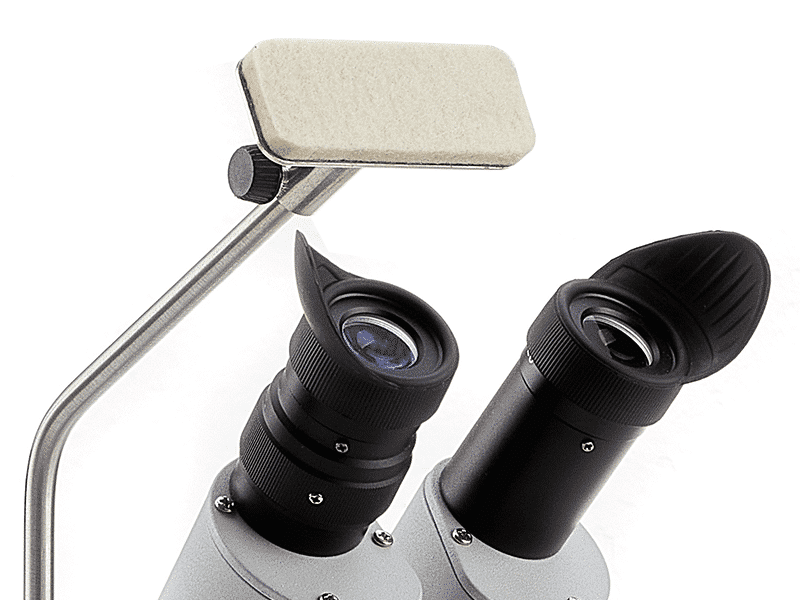 Especially for regular or prolonged welding, good ergonomics of the welding microscope is very important.
The PUK welding microscope can be optimally adjusted to the operator and additionally ensures relaxed and low-fatigue work due to comfortable hand rests.
Each welding microscope is prepared for the attachment of an optionally available headrest, which makes even longer work comfortable.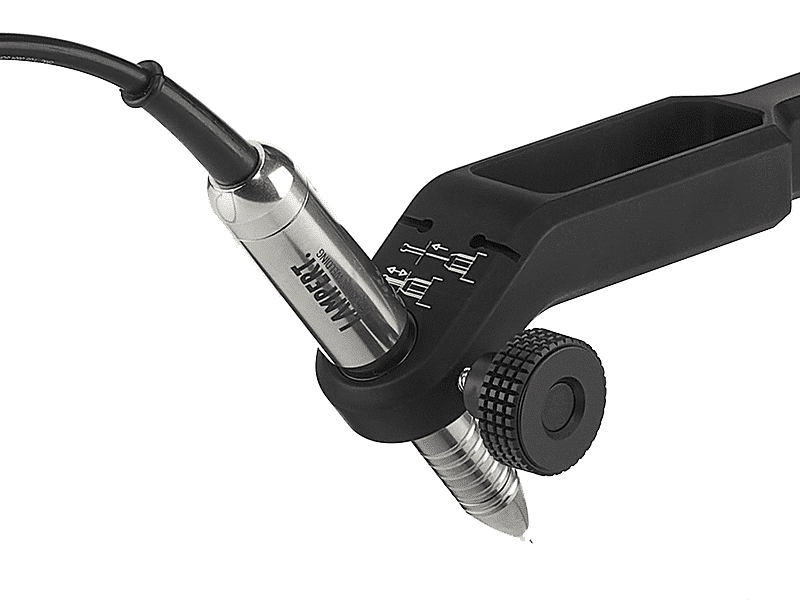 The optics of PUK welding microscopes excel where it really makes sense.
After more than 20 years of development, we are still convinced that there are two essential requirements for the optics of a welding microscope. A fixed 10x magnification and a large field of view with
a diameter of 20 mm.
In other words, as few mechanical components or functions as possible that could be damaged by the vibrations generated during welding.
Here, too, quality and durability are our top priorities.
NEW designed housing of the eye protection system with integrated LED lighting. The SM 6 becomes a working microscope in no time at all by simply swinging the NEW designed handpiece holding arm out of the field of view.
Technical data welding microscope
| | |
| --- | --- |
| Magnification | 10 x |
| Field of view diameter | 20 mm |
| Working distance | 145 mm |
| Diopter adjustment | + |
| Lighting | LED 3 W / 800 mA |
| Ergonomic hand rests | + |
| Height and tilt adjustment | + |
| Weight | 3,5 kg |
Technical data eye protection system
| | |
| --- | --- |
| Actively controlled LCD eye protection system | + |
| Brightness level of the LCD | DIN 3 |
| Darkness level of the LCD | DIN 11 |
| Switching time | < 50 ms |
| UV protection | > UV11 |
| IR protection | > IR11 |
OUR MOST VERSATILE VARIANT
Articulated arm welding microscope SMG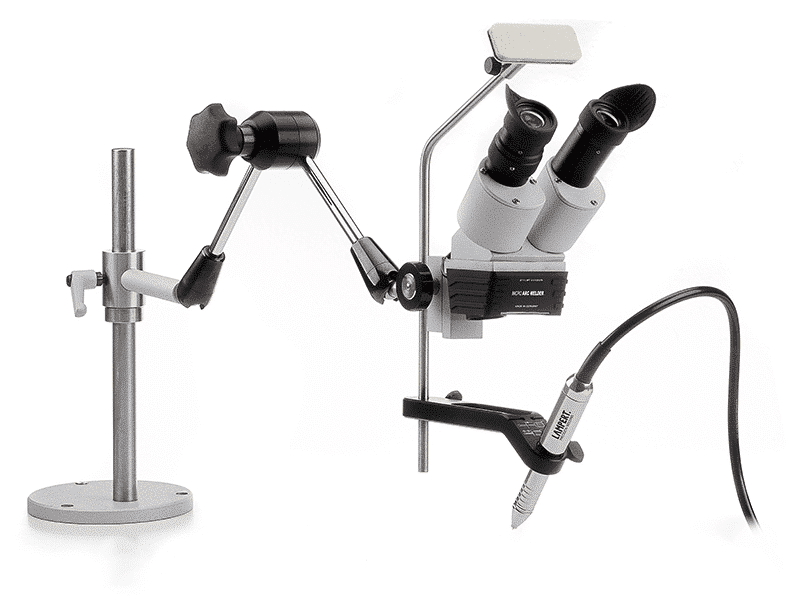 Articulated arm, can be rotated and swiveled in all directions, making it particularly ergonomic to work with. For easy mounting on a workbench e.g. with 3 screws (not included).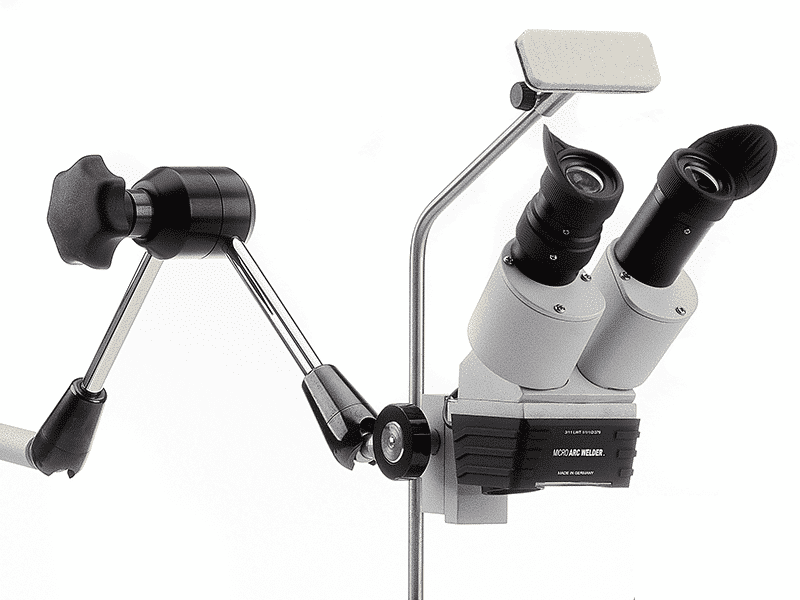 Provides even more flexibility at the workplace, e.g. when welding very large objects. Better use of space where space is limited.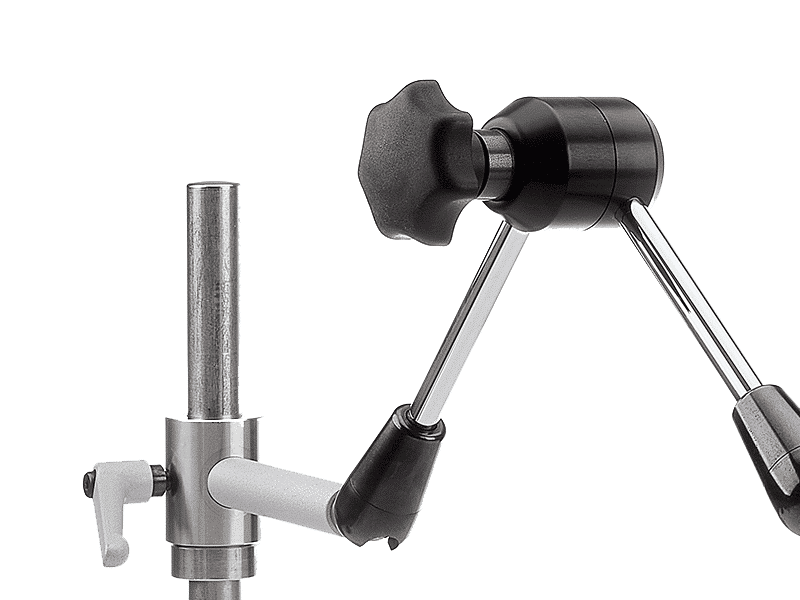 Easy operation by the fixing knob. This microscope can also be used as a working or viewing microscope at any time.
Technical data welding microscope
| | |
| --- | --- |
| Magnification | 10 x |
| Field of view diameter | 20 mm |
| Working distance | 145 mm |
| Diopter adjustment | + |
| Lighting | LED 3 W / 800 mA |
| Reach | 550 mm |
| Height and tilt adjustment | + |
| Weight | 5,1 kg |
Technical data eye protection system
| | |
| --- | --- |
| Actively controlled LCD eye protection system | + |
| Brightness level of the LCD | DIN 3 |
| Dark level of the LCD | DIN 11 |
| Switching time | < 50 ms |
| UV protection | > UV11 |
| IR protection | > IR11 |
Microscope optics with 10x magnification
Individually adjustable
LED illumination in the handpiece holding arm
Optimal illumination of the work area
Technical data welding microscope
| | |
| --- | --- |
| Magnification | 10 x |
| Field of view diameter | 20 mm |
| Working distance | 145 mm |
| Diopter adjustment | + |
| Lighting | LED 3 W / 800 mA |
| Weight | 3,7 kg |
Technical data eye protection system
| | |
| --- | --- |
| Actively controlled LCD eye protection system | + |
| Brightness level of the LCD | DIN 3 |
| Darkness level of the LCD | DIN 11 |
| Switching time | < 50 ms |
| UV protection | > UV11 |
| IR protection | > IR11 |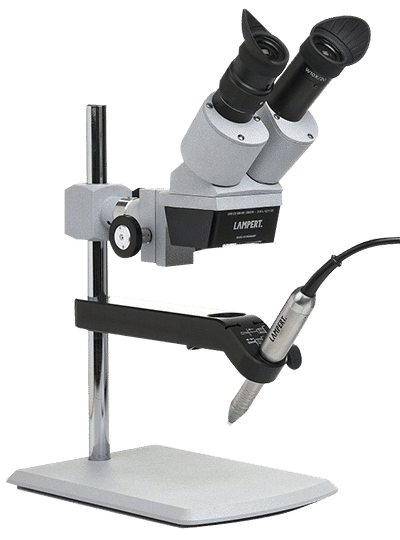 Here you can download additional information about our eye protection systems