The PUK D6, the welding machine for dental laboratories, is compact and versatile, designed specifically for dental applications and alloys. All welding tasks in the daily routine of a dental laboratory, which could otherwise only be performed with a laser can be performed with this dental welding unit. See for yourself the various possible applications in our application videos!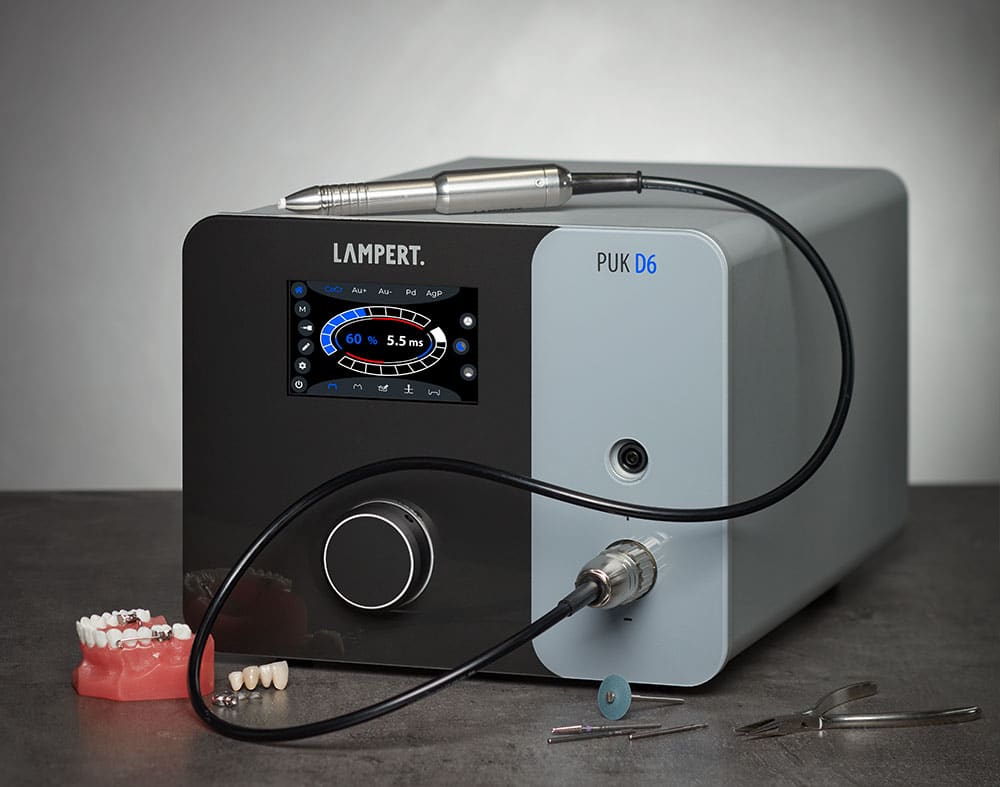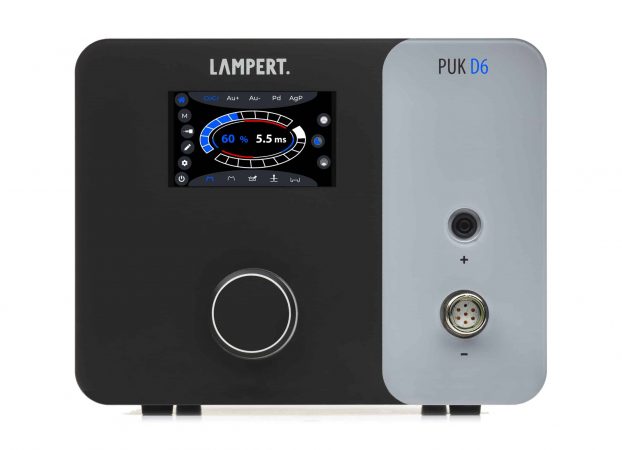 The display of the PUK D6 with high color brilliance and transparent display of the performance parameters
Clear design language with timeless aesthetics as a visual highlight at every workstation in the dental laboratory
Noble, selected materials for highest demands on value and appearance

Functionality of the fine welding device
70 % higher display resolution with increased viewing angle under all ambient conditions on the new Lampert PUK D6 dental welding unit
Optimum welding curves for all common available dental alloys
Higher maximum power and improved welding performance – especially with highly conductive alloys – thanks to the new speed function
New standby function – fast restart, minimal energy consumption
Single-screen menu for intuitive and fast selection of the right performance parameters through direct control with one-hand joystick with turn-push-tilt function

Faster maximum spot weld sequence due to extended speed function – selectable in 3 levels
Refined micro mode with narrower gradation enables extended spectrum when welding at the lower power limit, e.g. in orthodontics
Newly designed, patented welding process control for avoiding faulty welds and learning PUK welding even faster
| | |
| --- | --- |
| Current (TIG) min./max. | 9 – 440 A |
| Pulse duration (TIG) min./max. | 0.1 – 34 ms |
| Current (fixation welding) min./max. | 80 – 700 A |
| Pulse duration (fusion welding) | 1.5 ms |
| Welding speed | up to 3 Hz |
| max. Loading time | 0,8 s |
| Number of metal programs | 10 |
| Range display with recommended settings | + |
| High frequency welding | + |
| Automatic gas pre-flow time | + |
| Gas consumption | approx. 2 l/min |
| Inert gas | Argon > 99.9 % e.g. Argon 4.6 |
| Power consumption during welding | 400 VA |
| Power consumption during idle operation | 7 W |
| Weight | 10,4 kg |
Video presentation of the new PUK D6
See here our product video with a short presentation of the new PUK D6 fine welding device for dental technicians. This will show you the advantages and innovations of the new generation of devices from Lampert – let us surprise you!
PUK fine welding in dental laboratories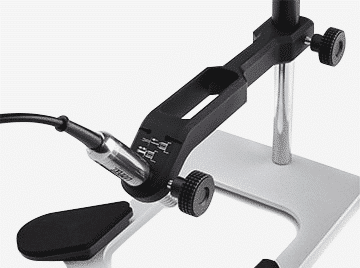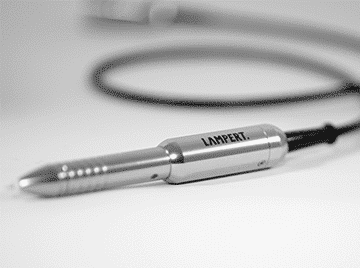 "Blind operation" through one-hand operation: Concentration remains on the workpiece!
Even more powerful LED illumination in our new premium welding microscopes. More uniform illumination of the working area – more flexible use of the microscope: These microscopes can also be used as full-fledged working microscopes – not only for welding!
New: Setting of all functions, the parameters power, pulse duration and menu navigation with only one joystick rotary control
Individual welding device setup via the settings menu
Very low, controllable heat generation
Fast amortization for dental laboratories

Low acquisition costs for the PUK D6 dental welder
Very good price-performance ratio
Facilitation and time savings during repairs and soldering
Low costs for consumables
Low argon consumption
Maintenance free technology
At home in the dental lab: the new PUK D6
Fine welding instead of soldering
Strong and long-lasting heat exposure during conventional TIG welding or brazing with the flame is often undesirable or intolerable in dental technology. The new Lampert PUK D6 dental welder not only saves time, but also avoids unnecessary material consumption.
Biocompatibility for any dental prosthesis
Fine welding with the PUK D6, unlike brazing, uses alloys of the same type and thus avoids any unnecessary mix of materials.
This ensures biocompatibility in both the fabrication and repair of dental restorations.
When precision, reliability and controllability are required, the PUK D6 is the first choice, making it the ideal complement to CAD/CAM design and additive processes as well as classic casting techniques.
In addition to the classic TIG micro-pulse welding technique, the PUK D6 also offers the practical and proven retention welding function for fast and stable denture repairs or extensions.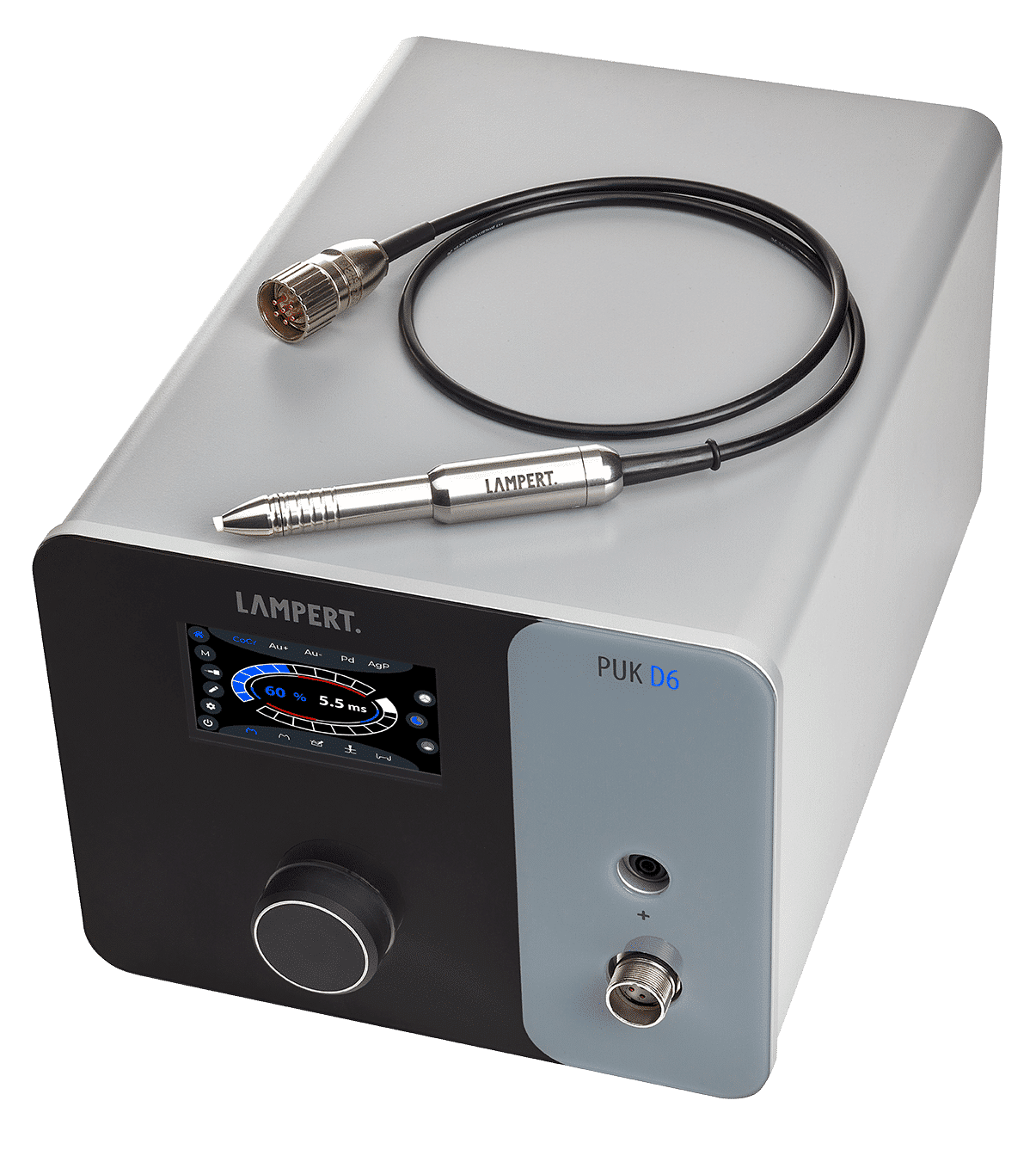 Other features in the overview
The retention welding mode of the PUK D6 dental welder
Simple, time-saving and inexpensive procedure to produce stable retention pins in just a few seconds.
(Ø 1.2 – 2 mm) to be welded onto existing dentures – for repairs, extensions or new fabrications.
In a fraction of a second, a special adapter is used to create an extremely stable connection – without any significant heat development on the denture.
No re-welding and no post-processing of the weld or its surroundings necessary. As a result, cast partial repairs or extensions can be completed much faster for the dental technician than with conventional techniques.
Automatic mode or foot switch
Help for safe work with difficult workpiece constructions
Simple activation: Press the foot switch for 3 seconds – blue symbol appears in the display – welding is now triggered by pressing the foot switch, similar to laser welding.
Very simple and efficient method for fixing dental workpieces for final welding or soldering. E.g. for a fixation weld of a separated bridge or other dental prosthesis on the working model or to fix wire and construction elements for orthodontic appliances.
Joining of two metal parts at their point of contact by means of resistance welding – the parts can thus be tacked together for final joining by means of PUK fine welding, or to fix them for a soldering process.
Especially suitable for machining metals with low electrical conductivity, e.g. stainless steel or titanium.
Possibility of welding material thicknesses of even less than 0.2 mm, e.g. wires or orthodontic bands, in an even more controlled manner for very delicate dental restorations.
A significantly faster welding cycle enables the dental technician to work even more continuously.
Possibility to shape applied material as desired or also to greatly improve the fine welding properties of particularly thermally conductive dental alloys.
The operating concept of the new PUK D6 that inspires dental technicians
Optimized settings menu of the PUK D6 micro pulse welder with the possibility of quickly calling up practical additional functions such as the refined micro mode, the retention welding mode or the fixation welding function.
Basic functions are selected in just a few steps in the device settings.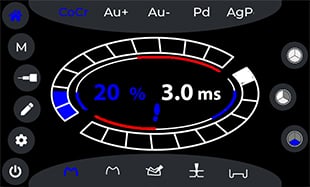 Intuitive, simple, ergonomic operation: select metal – select welding situation -…
weld!
Visualization of the optimum setting ranges for the selected welding task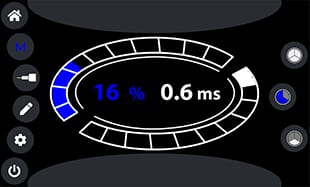 Presets for all common dental alloys
such as for cobalt-chromium and high gold alloys,
stainless steel, titanium, and many more, as well as for typical welding situations in dental technology.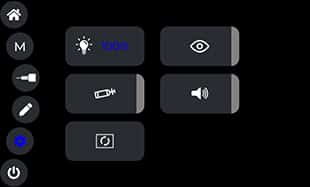 Setting of the parameters power, pulse duration and menu navigation directly via the one-hand joystick of the PUK D6
Easy to understand symbols with self-explanatory user interface
Accessories and optional equipment
Practical further system components and accessories, such as electrode grinding motor, flow controller and many more are available according to your individual needs. Please also visit our accessories page.
The PUK D6 dental welder is delivered with the following accessories and contains all necessary documentation
and manuals for the dental technician:
The PUK welding system with the selected welding microscope
1 set of special electrodes
Small welding course with short instructions, several steel plates and some welding wire for an easier introduction to the Lampert fine welding technique.


Here you can download additional information about our welding equipment
Quality for your demand: We place importance on the highest production and safety standards and guarantee the reliability of our products.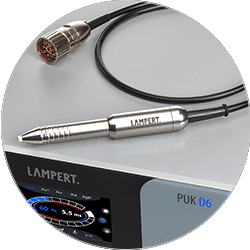 High-quality workmanship in every detail: noble, selected materials for the highest demands on value and appearance.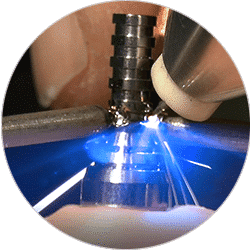 Special electrodes without toxic components, with optimized ignition and welding properties.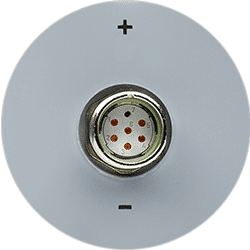 High quality connectors and professional screw and plug-in connections ensure durability and lasting safety in daily use.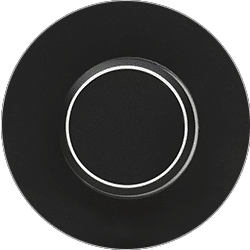 One-hand joystick with turn-push-tilt function and simplified, intuitive menu navigation

Quality "Made in Germany
The PUK welding equipment is developed and produced in Germany.

Quality from conviction
For the PUK welding equipment we provide 3 years warranty!

Standard-compliant
Each PUK welding system is manufactured according to the valid EN standards and is CE compliant.

Standard-compliant
In addition to CE compliance, our welding equipment also meets UKCA requirements for the UK.

Latest technology
Our long-standing cooperation with the University of Applied Sciences WÜ-SW vouches for innovation.

The official German ceritification authority for research and developent "Bescheinigungsstelle Forschungszulage" (BSFZ) awards its seal exclusively to companies that are eligible to claim funding through the research allowance.